DCBS(DZ)
Brand : EASTCHEM
Origin : China
Delivery time : One week
Supply capacity : 5000MT per annum
Purity : ≥ 98%
cas no. : 4979-32-2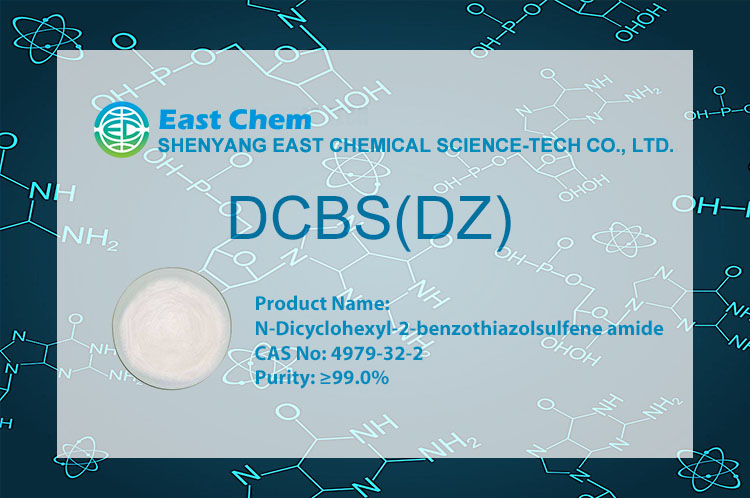 | | |
| --- | --- |
| Product Name | N,N-Dicyclohexyl-2-benzothiazolsulfene amide |
| Other Name | DCBS(CZ) |
| CAS No. | 4979-32-2 |
| EINECS No. | 203-002-1 |
| Initial M.P | ≥97.0 °C |
| Ash | ≤ 0.3% |
| Heat Loss | ≤ 0.3% |

The product is light yellow grain or powder. It is odorless, tasteless, and non-toxic. The density is1.26-1.32g/cm3. Melting point is above 97°C.It is not soluble in water but soluble in gasoline, ethanol, methylene chloride, tetra chloromethane, benzyl, ethyl acetoacetate, etc.
DCBS is a rubber vulcanizing accelerator with good anti-scorching property and delayed onset of cure. It is mainly used in production of tires, rubber vibration insulators, and especially radial tires.
Application

It is used as an after-effect accelerator for natural rubber, butadiene rubber, butyl aniline, isoprene rubber and the like. Good dispersion in rubber. The scorch time in the natural rubber compound is longer than the accelerator DIBS, so the operation safety is higher. The vulcanization rate is similar to the accelerator DIBS at the vulcanization temperature. The vulcanization flatness is similar to the accelerator CZ. The vulcanized material containing this product is vulcanized slightly faster than the flat vulcanization rate. It is suitable for high-activity reinforcing agent and is suitable for rubber compound with polybutadiene rubber or reclaimed rubber. The vulcanized rubber has good mechanical properties, especially dynamic properties, and high elasticity and tensile strength. Due to the bitter taste of vulcanizates, it is not suitable for the manufacture of rubber products in contact with food. It is mainly used in the manufacture of tires, tapes, shock absorbing products and backing compounds for retreading tires. The usual amount is 0.5-1 part, and the sulfur content is about 2.5 parts. This product is low in toxicity.
Please feel free to give your inquiry in the form below. We will reply you in 24 hours.