Isopentenyl Alcohol (cas no.763-32-6)
Brand : EASTCHEM
Origin : China
Delivery time : One week
Supply capacity : 5000MT per annum
Purity : ≥99.5%
cas no. : 763-32-6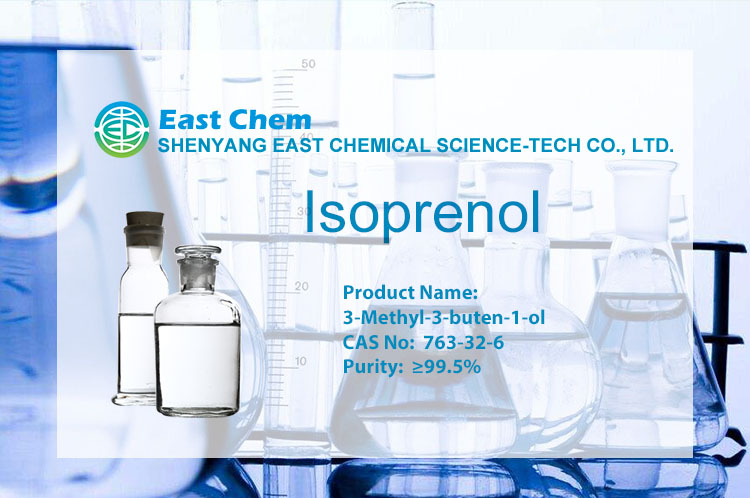 Product Name
3-Methyl-3-buten-1-ol
CAS No.
763-32-6
EINECS No.
212-110-8
Molecular Formula
C5H10O
Molecular Weight
86.13 g·mol-1
Flash Point
40.1°C(104.2°F)
Density
0.853 g/mL at 25 °C(lit.)
Purity (%)
≥ 99.5

Moisture (%)
≤0.05
Appearance
Colorless and clear liquid
Storage

Store in a tightly closed container.
Store in a cool, dry place.
Keep away from sources of ignition.

Isoprenol is produced by the reaction between isobutene (2-methylpropene) and formaldehyde.
This product is a colorless transparent liquid with a concentrated ester flavor, insoluble in water, soluble in alcohol, ether and other organic solvents.3-Methyl-3-buten-1-ol is Clear colorless to light yellow Liquid,used in the synthesis of antiproliferative, antiandrogenic and cytotoxic caffeic acid derivatives.
1.Used in the production of concrete plasticizer.
2.Used in synthesis of aroma chemicals.
3.Used in pharmaceutical and agrochemical industry.
Please feel free to give your inquiry in the form below. We will reply you in 24 hours.