γ-Butyrolactone (GBL)
Brand : EASTCHEM
Origin : China
Delivery time : One week
Supply capacity : 5000MT per annum
Purity : ≥99.5%
cas no. : 96-48-0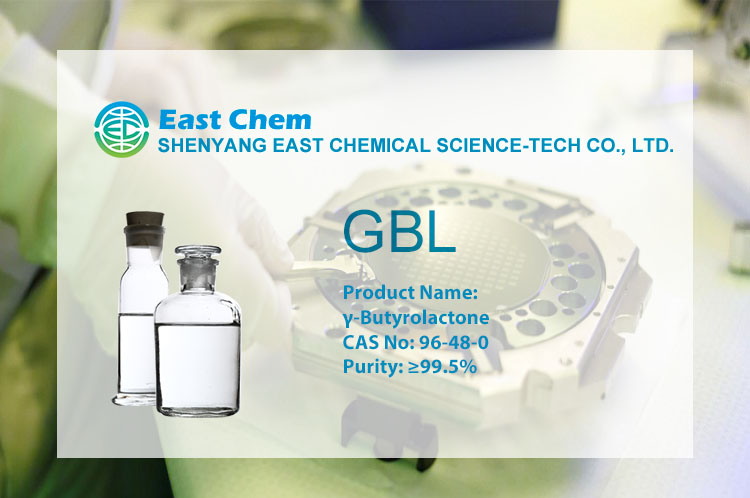 | | |
| --- | --- |
| Product Name | Gamma-Butyrolactone |
| Other Names | GBL, Butyrolactone |
| CAS NO. | 96-48-0 |
| EINECS No. | 202-509-5 |
| Molecular Formula | C4H6O2 |
| Molecular Weight | 86.09 g·mol−1 |
| Density | 1.1286 g/mL |
| Flash Point | 98 °C (208 °F) |
| Appearance | Colorless and clear liquid |
| Purity (%) | ≥99.5 |
| Moisture (%) | ≤0.05 |
| Color APHA | ≤10 |
| Package | 200KGS in DRUM/22MT ISO TANK |

GBL has a wide range of practical applications because of its low freezing point, high boiling point, and a unique combination of solvent and electrical properties. It has applications as a solvent for special resins, in photography, in batteries, and as an electrolyte. Also a number of derivatives are synthesized from GBL.
Applications
1) Solvent Applications
---Solvent
Used as a solvent for photosensitive resins and for special inks.
---Photography
Used for dispersion and finishing agents.
---Electrical
Used as the electrolyte solvent for capacitors and for lithium batteries.
---Casting Binder
2) Raw Material for Synthesis Applications
Used as a raw material for the solvents listed below.
---2-Pyrrolidone (2P)

2P is a raw material for pharmaceutical intermediates, nylon-4, NMP, as well as a floor polish agent.
---N-Methyl-2-pyrrolidone (NMP)
NMP is used for aromatic and butadiene hydrocarbon extraction, polyamide/polyimide varnish solvent, as well as semiconductor and color filter photoresist solvent, etc.
---N-Vinyl-2-pyrrolidone (NVP)
NVP is a raw material for PVP. It's also used as a stripping agent and a petroleum additive.
---Polyvinylpyrrolidone (PVP)
PVP is used for cosmetics (hair spray and lotion thickening agent), medical products (tablet binder, plasma substitute, mouthwash), industrial applications (suspension stabilizer for colloidal suspension polymerization, dyeing agent, hardening oil viscosity modifier, adhesive thickening agent), and food (beer / wine clarification agent).
Please feel free to give your inquiry in the form below. We will reply you in 24 hours.