Cyclohexylamine (cas no.108-91-8)
Cyclohexylamine (cas no.108-91-8)
EASTCHEM

China

One week

5000MT per annum

≥99.0%

108-91-8
Cyclohexylamine is mainly used in the production of sweeteners and is a widely used chemical product. In organic synthesis, cyclohexylamine is an important intermediate.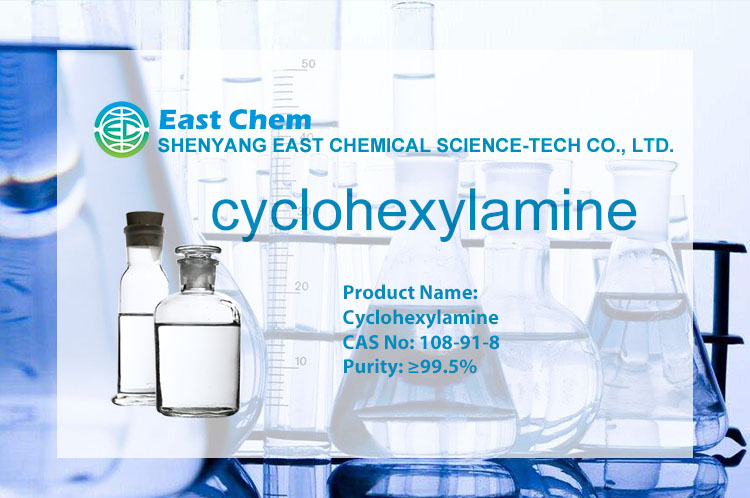 Product Name

cyclohexylamine





Other Name


CHA






CAS No

108-91-8






EINECS No

203-629-0






Molecular Formula

C

6

H

13

N






Molecular Weight

99.17 g·mol

−1





Density

0.8647 g/cm

3





Aniline(%)

≤0.15






Purity (%)

<span ">

Moisture (%)

≤0.5

Appearance

Clear colorless liquid






Storage




Fireproof. Separated from acids,oxidants,aluminium;

copper,zinc,etc.Well closed.









Cyclohexylamine is an organic compound, belonging to aliphatic amine. Pure cyclohexylamine is a colorless liquid, but amines usually have color due to impurities, and cyclohexylamine is no exception. It has fishy smell and is miscible in water. The aqueous solution is weakly alkaline, which is stronger than aniline. Cyclohexylamine is an important intermediate in organic synthesis. In organisms, cyclohexylamine is a metabolite of cyclamate.
Application Performance
Cyclohexylamine is an important intermediate in the synthesis of other organic compounds. For example, it is the precursor of herbicide cyclozinone and sulfenamide vulcanization accelerator.Hyposulfonamide accelerators are important components in the synthesis of mucus accelerators, analgesics, bronchodilators and other drugs.

Some sweeteners are synthesized by cyclohexylamine, the most important of which is cyclamate

Cyclohexylamine is also a corrosion inhibitor
Security
Cyclohexylamine is corrosive and flammable with a flash point of 28.6 ° C. Its LD50 is 0.71ml/kg (rat, oral). Both inhalation and ingestion can cause poisoning, and inhalation of cyclohexylamine may be fatal. It is easily absorbed by the skin and causes discomfort.
About us
Shenyang East Chemical Science-Tech Co., Ltd. is a fine chemical products and services company specializing in electronics, pharmaceutical and other chemical related industries. BDO and its derivatives, including GBL, NMP, THF; Lithium ion battery material; Fine chemical intermediate; Hydrocarbon environmental organic solvent and additive in concrete (surfactant) for electronic industry, pharmaceutical industry, building industry, chemical industry, pesticide, paint, printing ink, paint and other industries in the integrated circuit (IC)/liquid crystal display (LCD)/lithium ion battery/insulation materials in areas such as providing differentiated products and solutions based on science and technology.
In the past 11 years, the company with rich professional knowledge, serving lithium ion battery, integrated circuit (IC), liquid crystal display (LCD), insulation materials, medicine, construction, industrial cleaning, pesticide and other industries, the products are sold to China, East Asia, South America, Eastern Europe, the Middle East, North America, Southeast Asia and dozens of other countries.
East chemical to global layout combined with a professional and leading business positioning, designed to be customer oriented, professional and efficient material chemical company, through our material chemistry specialty, deep cooperation with customers, provide differentiated products and solutions based on science and technology, to create a better world a sustainable future.

FAQ
Q1: Can your company accept the special requirements of your customers?
A1: Of course, we can.
Q2: Why is the quote offered different from the sticker price?
A2: As we know, prices of chemicals are not fixed, they fluctuate with the markets.
Q3: Is there any discount?
A3:of course. The price is negotiable. You will get discount and the most favorable price if you order large quantity goods or order with some other products together.
Q4: What's the shipping way?
A13:Express such as EMS, DHL, TNT, Fedex, UPS, air transportation, sea transportation,etc per your request.
Q5: Are you a factory or trading company?
A5: We are manufacturer of some chemical raw materials and trading company, we can help buyers to decide which products are there best choice, and all your inquiry will be replyed within 24 hours
Q5: Could you send me all your price list?
A5: As we have more than thousands of items. Please inform the items you are interested in, and you will get the price list you want.